5G and Wi-Fi 6 With the Internet's ubiquity in contemporary culture, its demand has steadily increased. All contemporary applications are now resource-intensive, and the majority are hosted in the cloud. Thus, there is a significant need for the high-speed net with increased bandwidth for both wireless and mobile networks. Meeting the demand is equally tough for both technologies, as it requires consideration of many technological and physical structure-related factors. 5G and Wi-Fi 6
Given how dependent we are on these innovations, we had never experienced Wi-Fi and Cellular systems working together. The most recent generations 5G and Wi-Fi 6 may now function in tandem to support dense IoT environments and allow new immersive solutions for hybrid work in the present day.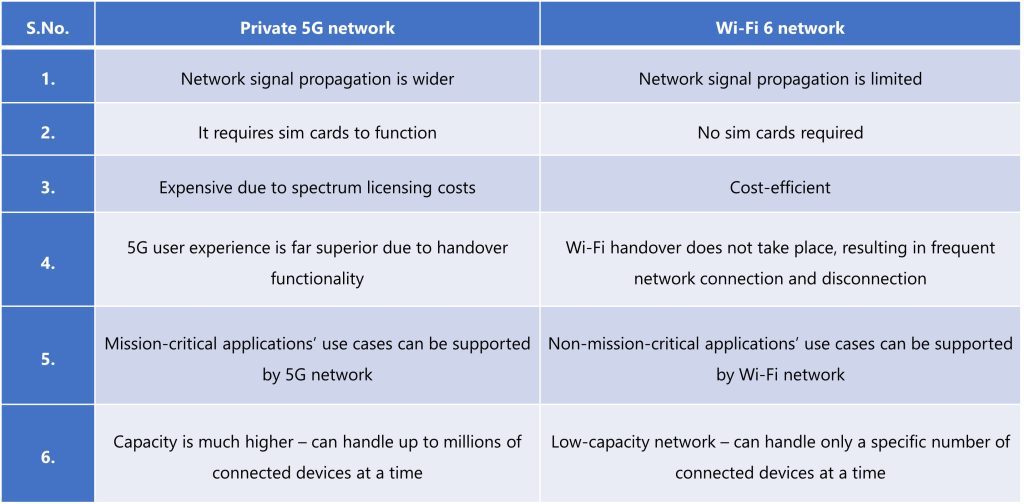 WiFi6/WiFi6E uses OFDMA (orthogonal frequency division multiple access), TWT (target wake time), and 2.4Ghz, 5Ghz, and 6Ghz frequencies to make it quicker and capable of supporting numerous devices simultaneously.
The Dynamic Duo: Private 5G and Wi-Fi 6/ Wi-Fi 6E for Next-Level Technology Improvement:
Private 5G's system structure can connect with any RAN-capable device (Radio access network). So, even if the destination is not cellular, it will function through RAN, which is supported by Wi-fi6 and opens up additional routes for all supported implementations. Private 5G offers broadband-level performance and is compatible with Wi-Fi6 in industrial deployments. Private 5G can be used in broader locations than Wi-Fi6, which may be restricted to specific places. The Private 5G network gives rapid, dependable, and secure access, and Wi-Fi 6 offers greater performance, wider connectivity, and more capacity, enabling employees to operate more effectively and efficiently.
Here are some examples of how Private 5G and Wi-Fi 6 can be used in tandem to enhance connectivity and performance:
Private 5G and Wi-Fi 6 can enhance real-time traffic monitoring and management in smart cities.
Traffic signals and cameras are linked by private 5G to the command center (Centralized Headquarters), which analyses traffic and regulates road congestion by adjusting the signal timers. Several devices within the command center are connected to the Gateways utilizing Wi-Fi 6, which is quick and has lower latency.
Healthcare Industry, especially Patient monitoring:
The network for the healthcare business is vital and cannot experience any outage. Doctors can access patient records from a centralized server in the event of emergencies, operations, etc. The server may be located elsewhere or in the cloud. Wi-Fi6 can connect hospital LANs to compatible endpoints, such as computers and medical devices. Doctors should have real-time access to patient monitoring equipment so that timely care/treatment can be administered.
Wi-Fi 6 enables wireless LAN connections. The building can utilize Private 5G connectivity with minimal latency and fast speed, making patient information readily available to authorized parties. Such data may be stored on the main server or in the cloud.
Advancement in manufacturing:
The majority of manufacturing operations are already automated, and speedier communication is essential for obtaining real-time data. Robots and AI require connectivity that is both fast and dependable. Wi-Fi 6/Wi-Fi 6E plays a crucial part in this endeavor.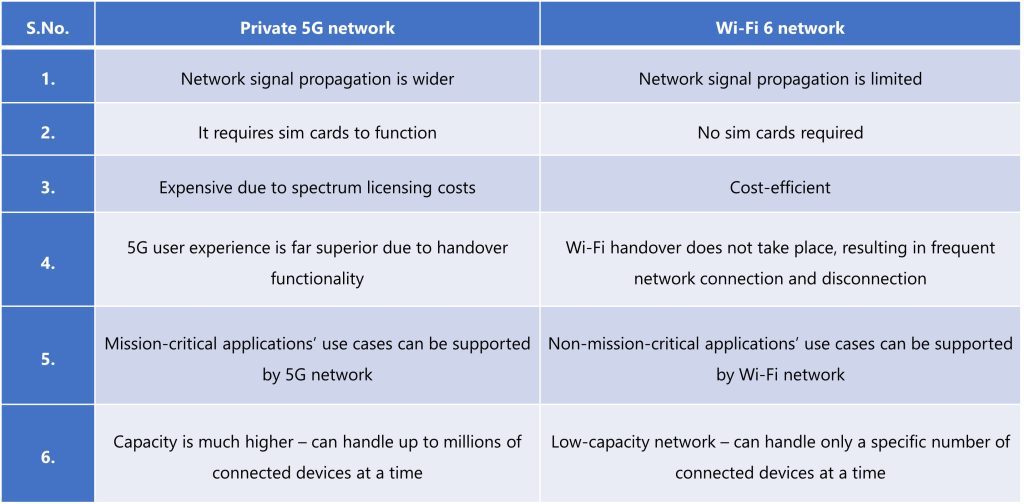 Enterprise Connectivity:
Business networks in which private 5G is utilized for audio and video and Wi-Fi 6 is used for local area networks
Accessing cloud-based data and apps requires a highly steady and secure connection for end-users on an organizational network. Every second, a tremendous amount of data is posted and downloaded. Important business calls may be held by video conference on many channels. The combination of these technologies enables enterprises to have quicker, more secure, and more dependable connectivity on the road, as well as access to the necessary resources to do their work efficiently, hence enhancing their productivity and competitiveness.
Enhancement of Online Learning:
The modern educational system has witnessed a transformation in how students study and collaborate. AR/VR is the next big thing in education, providing engaging, comprehensive, and immersive learning experiences that bring educational concepts to life. Hence, both 5G and Wi-Fi 6 have the potential to significantly improve these experiences by offering quicker and more stable connectivity to facilitate the development of novel and inventive learning environments.
Final Verdict:
The 5G revolution arrives, and for an organization to stay ahead of the curve, a private 5G and Wi-Fi 6 hybridization network that provides enhanced speed and performance, enhanced security, flexibility, and scalability is essential. With this combination, organizations can remain competitive and ensure their network fulfills their specific requirements.